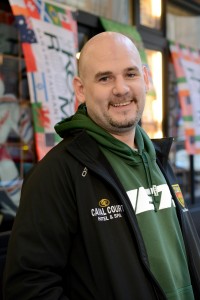 Bar tender of the Week/21 Questions
Name: Aiden Lundy
Originally from Newcastle Co. Down.
In New York eight years and bar tending for the last six.
Works at:
The Keg Room
53 W 36th St.
(5th & 6th Ave.)
1
Q. Whats the best thing about bar tending in New York?
A. Getting to meet people from all different walks of life.
2
Q. And the worst?
A .The unsociable hours.
3
Q. Favorite way to unwind?
A. Just taking it easy watching a movie or hanging out with friends.
4
Q. Who would play you in a movie?
A. Probably Liam Neeson!
I would have picked Colin Farrell before he went off the drink but he's gone all soft now LOL!
5
Q. Best pick up line you heard/use?
A. "Do you want to come home with me and see my picture of the Pope"!
6
Q. What advice would you give to the Mayor?
A. Don't go near the horse and carriages in Central Park after dark!!
7
Q. Boxers or briefs?
A. Boxers.
8
Q. Favorite sports team/personality?
A. Glasgow Celtic of course! Lubo Moravcik my favorite player, made his debut against Rangers scoring twice in a memorable 5-1 victory.
9
Q. Best sporting event you attended?
A. Hands down the Uefa Cup Final in Seville, Spain in 2003.
Even though we were beaten by Porto, its still my best Celtic road trip ever.
10
Q. Who's going to win the world cup?
A. Argentina, Viva Las Malvidas!
11
Q. Who's playing on your ipod?
A. Everything from Marvin Gaye to Aviici.
12
Q. Best concert you attended?
A. My first concert, Garth Brooks in Croke Park, Dublin circa 1995.
13
Q. Favorite place besides your home town and New York?
A. Probably Miami. Love the Latin vibe!
14
Q. Favorite drink/tipple?
A. Lagavulin Scotch.
15
Q. Best cure for a hang over?
A. Hair of the dog!
16
Q. If the world was ending tomorrow you would?
A. Go home and see my family.
17
Q. Words to live by?
A. If it's for you, it will not go by you.
18
Q. Top 3 must-see New York place you'd recommend for tourists?
A. Top of the rock, Central park and The Keg Room of course!
19
Q. What would you do if you won the Lotto?
A. Disappear.
20
Q. Cure for home sickness?
A. Don't know, never felt it.
21
Q. Advice to new bartenders?
A. Be fast, funny and have a thick skin.